Elliott Sadler
BIOGRAPHY: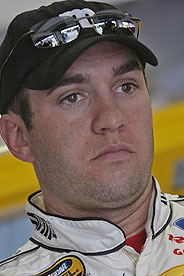 Elliott Sadler started his racing career at the tender age of seven. He garnered more than 200 victories before moving into stock cars in 1993.
He was the Late Model Stock Car champion at his home track, South Boston (Va.) Speedway in 1995.
Sadler was forecast for greatness when he won three races and finished fifth in the Busch Series in his first full season, 1997. He slid back to win twice and finish eighth in points for Diamond Ridge Motorsports in 1998.
Sadler made his Cup debut in 1998 at the Coca-Cola 600 at Charlotte. A season later, he finished second to Tony Stewart in the rookie of the year race.
In 2001, Sadler achieved a career milestone with his first Cup victory, driving for Wood Brothers Racing in his third season.
Sadler is a hunting guide and raises Walker hunting dogs in the winter months. When not on the track, he enjoys golf, basketball and video games.