Gordon Bio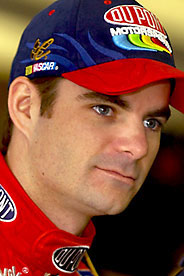 Driver Profile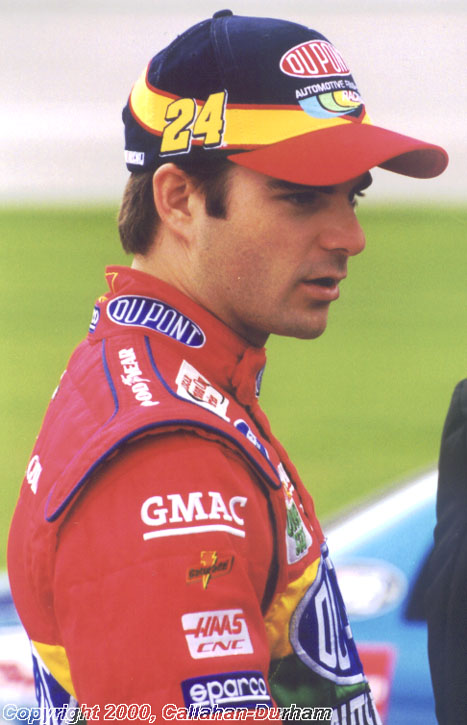 Just two seasons after crew chief Ray Evernham left the Hendrick Motorsports operation after the pair had won three titles in just five years, Jeff Gordon wore the crown again in 2001.
Gordon won a Winston Cup record $10,879,757 in 2001 as he elevated himself to motorsports' all-time money winner. He also punctuated his season with a series-leading six Bud Pole Awards.
He came back from a first lap crash to win The Winston all-star race for the third time, tying the late Dale Earnhardt for the most wins in the event and won his third edition of the Brickyard 400 at Indianapolis Motor Speedway. At age 30, he became the youngest driver ever to win four Winston Cup titles and is only the third, along with Earnhardt and "King" Richard Petty, to achieve that plateau.
Despite his age, there is no denying Gordon can be labeled a veteran when it comes to racing. Born in Vallejo, Calif., but raised in Pittsboro, Ind., Gordon began his racing career at age 5. By age 20, with numerous victories and achievements, he was named, for the second straight year, to the 1991 All-American Team by the American Auto Racing Writers and Broadcasters Association, joining such notables as Earnhardt, Harry Gant, Michael Andretti and Gordon's racing hero, Rick Mears.
Gordon joined with car owner Bill Davis in 1991 and began competing on the Busch Series, finishing second three times and third once. He had five top-fives and 10 top-10s, notched one pole and placed 11th overall in the standings. Those successes in his inaugural season earned him the Vortex Comics Rookie of the Year honors. He continued to excel in the 1992 season by capturing his first series victory at Atlanta from the pole. He set the series record for pole positions in a single season, capturing 11.
Before his successes, Gordon logged more than 600 victories in 15 years of driving in open-wheeled competition. During the 1970s and early 1980s, he won three national Quarter-Midget championships and four national karting championships. He became USAC's youngest driver when he was granted his race driver's license for that circuit on his 16th birthday. In four different USAC divisions in more than four years, he recorded 22 victories, 21 fast times, 55 top-5s and 66 top-10s in just 93 starts.
In 1990, at 19, Gordon won the USAC Midget Series national championship, becoming the youngest driver ever to win that title. He followed that in 1991 by capturing the USAC Silver Crown national championship.
Hendrick, a keen judge of racing excellence, was so impressed with the talents and unlimited potential of the young racing phenom, that he signed Gordon in early May 1992 to a Winston Cup Series contract for the 1993 season. Gordon has since become an equity owner of his race team.
It's not often that someone's career path is decided at age five –- unless your name happens to be Jeff Gordon.
In 1977, long before Gordon became a four-time NASCAR champion, Gordon stepped behind the wheel of his first quarter midget at the urging of his stepfather, John Bickford.
Bickford remembered Gordon's first few laps at the makeshift racetrack in Vallejo, Calif. as less than stellar.
"He slipped around the track for days getting used to the car and how to drive it," he said.
Not long after that, Gordon, barely school age, started turning heads.
At the age of six, he won 35 main events en route to the Western States Championship. He won his first Grand National Championship in 1979. A year later, Gordon took 50 fastest time awards and 46 race wins in 50 events.
"I really felt comfortable and confident in those cars," said Gordon. "I felt that I could win just about every time out."
After dominating the quarter midget scene, Gordon, bored with racing, nearly started a career in waterskiing before moving on to sprint cars.
When Gordon turned 13, Bickford felt the time was right to put his stepson in the driver's seat of a 650 horsepower sprint car for the first time. Race organizers didn't agree, feeling Gordon was too young to run such a developed racecar. Still, preparations for Gordon's sprint car career went on.
"I knew it was going to be tough, but all I wanted was a chance to prove whether I could or couldn't drive these cars," Gordon said.
Gordon was finally allowed to run in Jacksonville at the All Star Florida Speedweeks, provided he started at the back of the field.
He hit the wall in that first effort, but ran on a dozen different tracks that year, culminating in a 12th-place effort.
Gordon's first sprint car win came in 1986 at the KC Speedway in Chillicothe, Ohio. In all, Gordon won 22 USAC races and garnered 55 top-five and 66 top-10 finishes.
In 1990, at age 19, Gordon became the youngest USAC National Midge Champion in history. A year later, he won the USAC dirt title to become the youngest Silver Crown winner ever.
In 1991, after taking Buck Baker's driving school at North Carolina Speedway, Jeff told his stepfather to "sell everything. We're going stock car racing."
Gordon won three Busch Series races in 1992 before jumping to Cup racing, where he won rookie of the year honors in 1993 and the first of his four titles in 1995. Gordon also took top honors in '97, '98 and 2001.