Headlines
<![if !supportEmptyParas]> Rockingham Race May Not Be At All In 2005.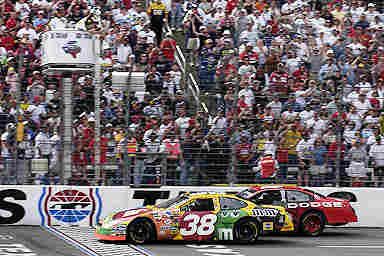 Nascar took one Rockingham date out last year for the lack of fans attending the race was low. Even when they took that date out the first and only Rockingham race has not sold out. There may be no Rockingham at all in 2005. This is a sport that is becoming bigger and bigger every year, and nascar needs big venues. The Rock not being one of them.
<![endif]>
<![if !vml]>

<![endif]>
Matt Kenseth Wins his first Nascar Winston Cup Championship. He clinched the championship basically when the other men trailing him in the points had sub par days. His teammate Mark Martin blew up at one point in the race when many of the lead lap cars were pitting. This caught lots of guys laps down. You guessed it Matt Kenseth the lucky man this year had not pitted yet, but was in the process of coming to pit when the caution came out. He was pitting and exited the pits while crossing the commitment line. Which nascar noticed and black flagged him. This was a part of the new rule to improve the safety at the race track. He then had to start at the end of the longest line. But that didn't stop Matt from coming back through the field. He progressed back and ended up with a forth place finish. That finishing spot was good enough to clinch the title.